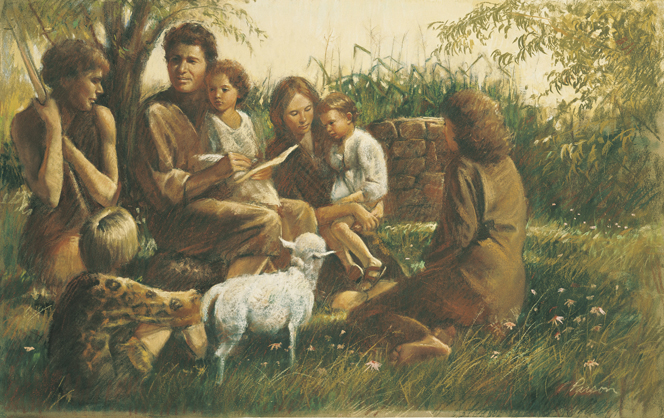 My testimony of the importance of families has grown so much as I have studied God's word to know what God expects of me as a mom. I have searched the scriptures for references about what we are to teach our children. I have read both mine and my husband's Patriarchal blessings and written down everything that God has said about our family and what we need to do as parents. Another great source of clarity has been the words of God's servants. Most of these have audio/video links if you want to watch it or listen to it while you are working.
Here are some of my favorite talks about God's plan for families!
"I want to suggest to you..., there is no time that you can spend, no way in which you can utilize your time that will be of greater advantage than training your boys and your girls to be worthy of the blessings of our Heavenly Father."
"There is nothing in this world as personal, as nurturing, or as life changing as the influence of a righteous woman."
"When mothers know who they are and who God is and have made covenants with Him, they will have great power and influence for good on their children."
"In 'the best of times and the worst of times' the true Saints of God, acting in faith, have never forgotten, dismissed, or neglected 'God's commandment... to multiply and replenish the earth.' We go forward in faith..."
"As a mother guided by the Lord, you weave a fabric of character in your children from threads of truth through careful instruction and worthy example... It is your sacred right and privilege."
The link will take you to the talk at theredheadedhostess.com
"Upon the creation of a mortal body, parents begin one of the most important tests of not only mortality but of their eternal existence: to see if they will do all they can to raise a righteous family. Ultimately, it is through righteous parenthood that men and women can prove themselves worthy of godhood, for I believe that the ultimate test of godhood is parenthood!"
The link will take you to the talk at theredheadedhostess.com
"Everything depended on a man and a woman who understood their place in the plan and their responsibilities to form an eternal family, to bear children, and to teach them."
"No program we follow or family tradition we create can transmit a legacy of testimony we do not have..."
"It is the challenge of mortality to be a worthy and responsible parent."
"There is nothing that has come or will come into your family as important as the sealing blessings."
"Remember your sacred calling as a father in Israel- your most important calling in time and eternity- a calling from which you will never be released."